One of the great things about having my own blog is that it puts me smack dab in the middle of the blogging universe. This has allowed me to find some great blogs that I enjoy reading on a regular basis. A few of these blogs (
$30 a Week Habit
,
Play at the Plate
&
My Cardboard Mistress
) have brought up recently a few things about the hobby that annoyed them or presented an alternate reality of sorts. These posts got me thinking of my own experience with this cardboard hobby. What are some things that I like and dislike? How has it changed since I was first introduced to it 22 years ago?
Has it really been 22 years since a friend introduced me to the idea of collecting baseball cards? Wow. I was on vacation on the way back from the Tennessee mountains when we stopped at a large flea market on the side of the road. My friend and I went our own way since adults usually look for boring stuff at flea markets. During our short stay there we ran across a booth selling sealed packs of baseball cards. I didn't know the first thing about cards, but I was a fan of baseball.
Growing up in a city that didn't have it's own major league team I wasn't able to follow MLB like some of you guys. I played baseball however so the interest was there. That said this booth we came upon was selling packs of 1990 Topps and 1990 Donruss. I don't remember what they were selling before, but it must've been reasonable because the two of us bought several packs. I can remember being enamored with collating the cards and reading the backs. This fired my collecting passion and I continued on for several years.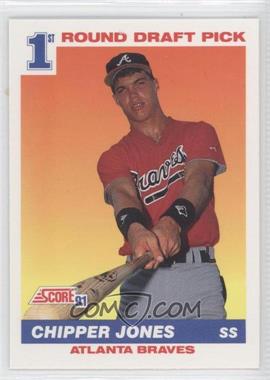 My church's youth group would always take a trip to Gatlingburg, TN each year around Christmas for a youth conference. One of the many shops in Gatlingburg was a sports card shop. It was so little you couldn't fit more than 3-4 people inside it at one time. Because of it's size and my little knowledge of cards it made it hard to shop, but that didn't matter to me. It was my only card shop experience at that time and I soaked it up. I had so many choices to choose from I didn't know where to start. I was already familiar w/ Topps and Donruss, but had never ripped a pack of Fleer, Score or Upper Deck. I didn't know what to do faced with so many choices! I ended up buying a box of 1991 Score and splitting it with a buddy of mine.
Shortly there after the onslaught of the early 90's product hit. There were so many different sets to choose from it could make your head explode. I know a lot of people miss the days of being able to chose between all of the card companies. They aren't fond of the current Topps monopoly. I find myself somewhere in between. Let me explain.
Competition is good for business. It keeps you on your toes. It keeps you sharp and from resting on your laurels. I'm not saying that Topps has gotten lazy or anything. I'm not picketing Topps or complaining about their various projects. If anything I'm loving a lot of what they have been doing lately (Allen & Ginter FTW!). While I don't long for the amount of selection the 90's offered I do miss some of the older brands and sets. I loved the flagship base sets. Topps has stepped up their efforts and I can appreciate the Opening Day sets, but a part of me really wishes there were more affordable base "no frills" kind of sets. With Panini recently reviving the Score and Donruss brands in basketball and hockey and even the old school Rated Rookie moniker I would be thrilled if they were given a full MLB license to produce cards. I don't want or need 5, 6, or 7 different companies producing baseball cards. I think 2 or 3 different companies is the magic number. I even throw my name in the hat for getting Upper Deck back in the game.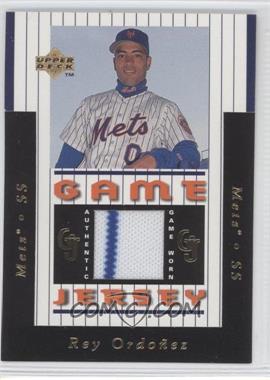 The introduction of jersey cards in the 1997 Upper Deck set was groundbreaking. As a collector of Rey Ordonez I was (puzzled) and excited to see he was 1 of 3 players included in the small set. As we all know this was just the very beginning of the whole game-used memorabilia wave that is still going strong today. This leads me down two different roads.
1) While the memorabilia cards are cool they seem to be played out now. They are so common place they don't feel that special anymore. I don't care for those crazy Triple Threads cards either. While I still buy memorabilia (relic) cards of Braves players or of select other players I collect I'm starting to get fed up w/ a certain practice. Flip over just any modern relic card and you'll see some blurb along the lines of:
" the piece of memorabilia on the front of this card isn't taken from any particular event, game or season "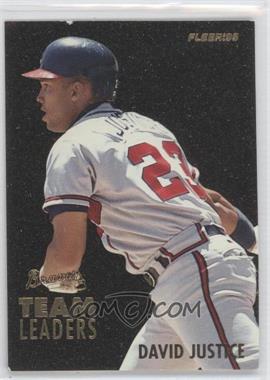 How do we even know if the memorabilia contained in the card was even used by the player on the front of the card? How do we know that they just didn't take the jersey of the bat boy or bat girl and chop it up and put it on cards? Surely I'm not the only one that has noticed this and is disturbed by this practice.
2) After the introduction of memorabilia cards it seems like the focus placed on inserts cards has gone the way of the dodo bird. I think one of my favorite sets to pull inserts from was 1995 Fleer. They ramped up the inserts that year with lots of different themed sets and seeded them at 1:1 across the board. I didn't mind getting dupes of base cards when buying packs because I knew I had a good chance at getting an insert card that I didn't already have.
I will say that there does seem to be more of an effort to include different inserts in the flagship Topps brand, but my favorite inserts came from Fleer and Pacific. We need less relic cards and more die-cut cards!
Another thing that I dislike now more than I did in years past is Beckett. Like many of the other bloggers have recently chimed about I don't care for what their price guide has done to the hobby. I never have cared about a card's value. After all an item's true value is only set at what someone is willing to pay. When I first got into cards a trip to a card shop while on vacation was like a little kid going to Toys R Us w/ birthday money. I loved to grab a copy of Beckett to read while on the road. Back then it seemed like the price guide was a very small portion of the magazine. There were actual articles that were fun to read. Not this box break/review crap there is now. The pages were slick and in full color. I still remember picking up a copy of Beckett w/ McGwire (A's) on the front while on vacation in Wisconsin w/ my family. The only issues I have now are one from 1995 commemorating the Braves winning the World Series and one w/ Tom Glavine on the front that the Sewingmachine Guy sent me.
I said I dislike Beckett now more than ever. I say that because earlier this year I pulled an autograph out of a retail pack of Heritage. It wasn't of a player or team I collect so I immediately put it up for trade. I figured a certain unnamed blogger would want it and eventually we worked out a deal. I sent him the auto and in exchanged I received a healthy stack of Braves. A month or so later while at Books-A-Million killing some time I grabbed the current Beckett and sat on a bench. Flipping through the mag I noticed they added pricing for Heritage. I look in the guide and I see that the auto I just traded away was listed at $80.00. This pissed me off. I wasn't mad with the blogger I traded with at all. At the time I'm sure pricing for Heritage wasn't even live. I was mad at myself for looking in the magazine. I was mad at myself because before that day I was happy w/ my trade. I don't care about a card's value. Within reason I'll trade anything I have that I don't want for something that I do want. If you've traded with me then you should know that if you're happy then I'm happy. If I do want to know what an item's current market value is then I'll go to eBay and look at closed sales data and take an average. I don't need Beckett. I don't think the hobby needs Beckett any longer.
I'm not all about dislikes...no not at all. There are several things about the hobby today that I enjoy. Most of them revolve around advances in technology since I started. I'd have to say one of the best things going today is us - the collectors and the bloggers. What I mean by that is I get to read unbiased (and biased) reviews of new and old sets. I have an outlet for trading cards that I don't want and receiving cards I want. It makes me feel like a part of a family or community. I had no idea when I started this blog that it'd still be going today or that I'd have so much to say and share.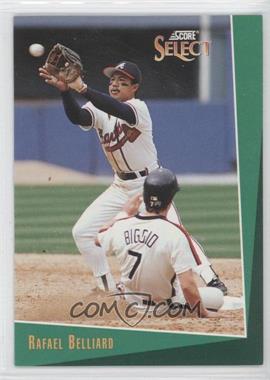 While some may argue that eBay has hurt the hobby it's just another choice I have when it comes to buying cards. Note I said buying cards. Rarely will I sell cards. There are 2 local card shops in my area and one of them isn't really local. I pass it going home from work everyday, but his hours are so hit and miss it's rare I get to stop and go inside. The other shop doesn't carry much product. Outside of buying supplies from him I don't buy much else. Frankly I don't see how he stays in business. That leads me to buying the majority of my packs from big box retail stores and singles from online stores.
Checkoutmycards.com
has been a great resource for me. Some of the cards I'm looking for aren't worth the time of a lot of sellers to sell. How many people out there are really looking for cards of Mark Lemke and Rafael Belliard? My collecting budget continues to shrink so I need to stretch my dollar now more than ever.
In closing I'm OK w/ the current state of the hobby, but that doesn't mean I wouldn't make changes if I was the "commissioner of baseball cards".