This past week at work for me was hard and my wife knew it. I think it was Thursday when she sent me a text that said let's go to a baseball game this weekend. Luckily the Gwinnett Braves were in town taking on the local Charlotte Knights (Chicago White Sox AAA affiliate). I loaded up the car w/ my wife and 2 little girls and made the short drive to Fort Mill, SC where Knight's Castle awaited.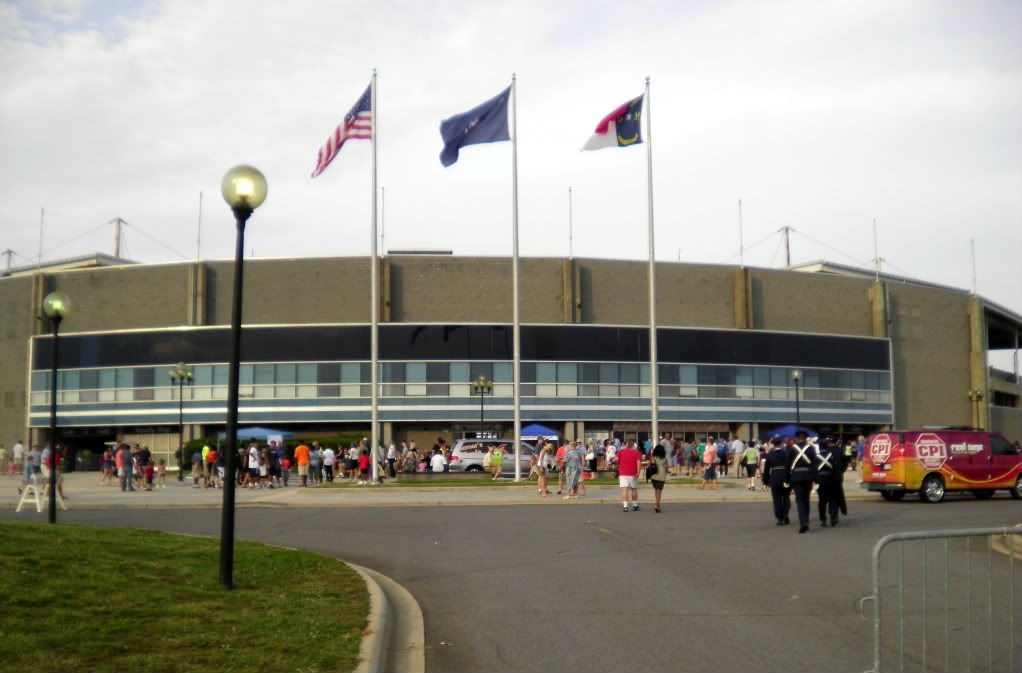 For an older minor league stadium it's still a fun place to catch a game. I love the fact that the field is only 15 minutes away from where we live.
My oldest, Olivia, filled up her purple kitty cat book bag with a few things to occupy her in case she got bored. The first 10,000 kids or so got a free Homer the dragon metal lunch box so we were hoping we got there in time.
My wife didn't want to sit too close to the field so we opted to stay in the upper (covered) part of the lower deck. The stadium isn't too big anyhow so you get a good view just about anywhere you sit.
Talk about having your hands full! Olivia was on the lookout early on for the Knights' mascot, Homer the dragon and his "wife" Caroline.
For once we timed getting to the game at a good time. We had a little time before the first pitch and thankfully both of the girls were in good moods.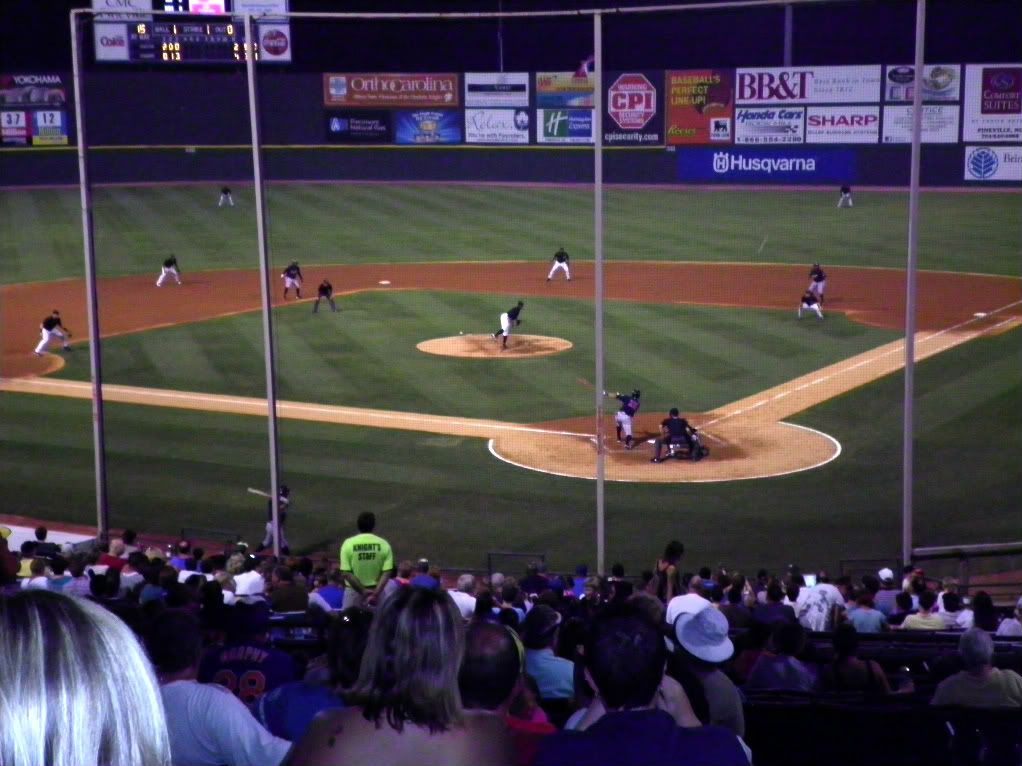 I believe that is Braves catcher J.C. Boscan at bat. He just completed a nice little stint in Atlanta backing up David Ross when Brian McCann went down.
The night started off with a bang for the Braves. Outfielder Matt Young lead off the game w/ a triple. It seems all the sudden the Braves have gotten really quick on the base paths. Have you seen Michael Bourne and Jose Constanza in Atlanta recently? The Braves scored twice in the top half of the 1st inning, but Charlotte would come back to take the lead 7 to 2 on a solor HR by Jordan Danks in the bottom of the 4th inning.
Top of the 5th saw Stefan Gartrell strike out. Wes Helms singled to right field. Mauro Gomez doubled moving Helms to 3rd. Brandon Hicks singled - scoring Helms while Gomez took 3rd. Wilkin Castillo lined out, but scored Gomez. Diory Hernandez was next up to bat and singles, scoring Brandon Hicks. J.C. Boscan strikes out to end the inning. Braves 5, Knights 7.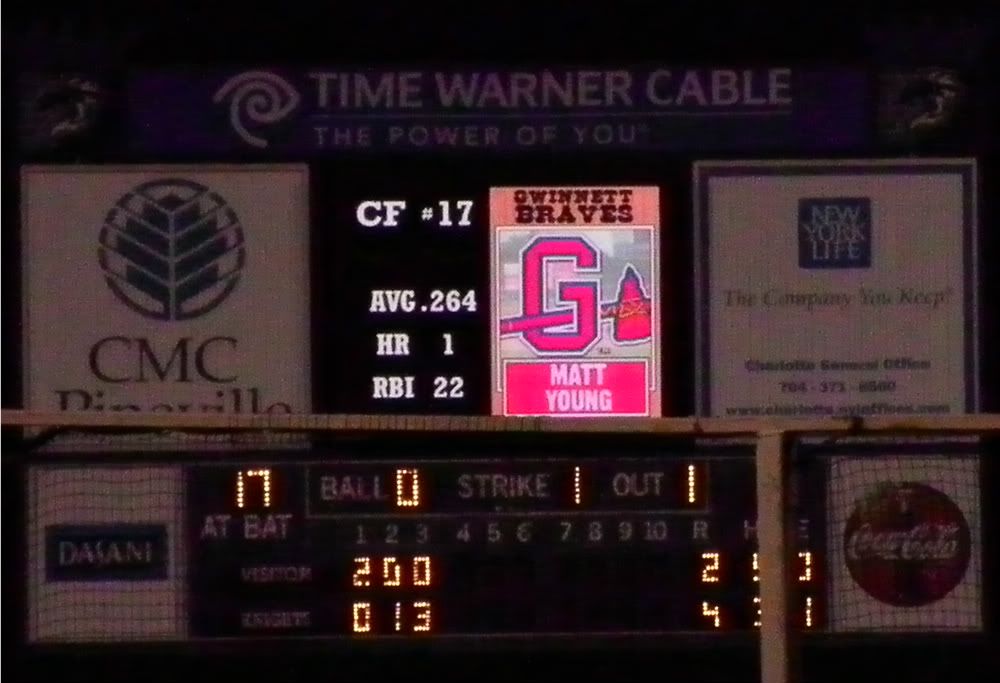 It was a muggy evening even after the sun went down. Typical summer weather in the Carolinas...high humidity. Sadly that's were the excitement ended if you were a Braves fan. We ended up having to leave during the 7th inning stretch, but it was OK. We had a great night at the ballpark and my girls were well behaved.
This game got me really excited about our trip to Atlanta Labor Day weekend to catch the Braves take on the Dodgers. While minor league baseball can still be a lot of fun I'm ready to see in person my first MLB game in probably 4 or 5 years.
On the baseball card side of things I did manage to pick up a really nice 2011 International League Prospects set of 30 cards thanks to the inclusion of Braves players Mike Minor and Julio Teheran. I'll share those cards a little later as all of the players minus the 2 Braves will be available for trade.